If you are only using version 4 software and catalogs, the following does not apply.
Important Update for Version5 Data!
Beginning on September 9th, users were able to install the latest updates to ALL of our software. This mandatory update was pushed out to all users on September 15th.
At this point, around 75% of users have successfully updated. If you have not completed these updates, it is IMPERATIVE that you do so as soon as possible. If you DO NOT have the versions listed below, you WILL NOT receive updates for your manufacturer's catalogs and data.
If you are unsure of which version you're on, each software includes an ABOUT section with the currently installed version. Below are the latest version numbers:
Data Warehouse 1.1.0
ProjectNotify 2.0.40
ProjectSpec 5.3.0.0
ProjectSymbols for AutoCAD 5.3.1
ProjectSymbols for CET 12.1
Version4 users will still be able to receive their updates as normal.  
ProjectMatrix can compile the data from the Manufacturer faster than ever before, getting updates to you even sooner

Faster Catalog Installation

Opens the possibilities for speed improvements to other software in the future

No heavy computer usage during install.  This will free up RAM so you can work without your computer slowing down
This will require a reinstall of all of your catalogs.  This is why the update takes a little time to complete. (See PRO- Installs faster!)

All installed Legacy Catalog data will be removed.  Click the link below to request Legacy Catalogs.**
** Does not affect the usage of manufacturers that use Price Zones.
If you are running Version 5 Software (UPDATES NEEDED)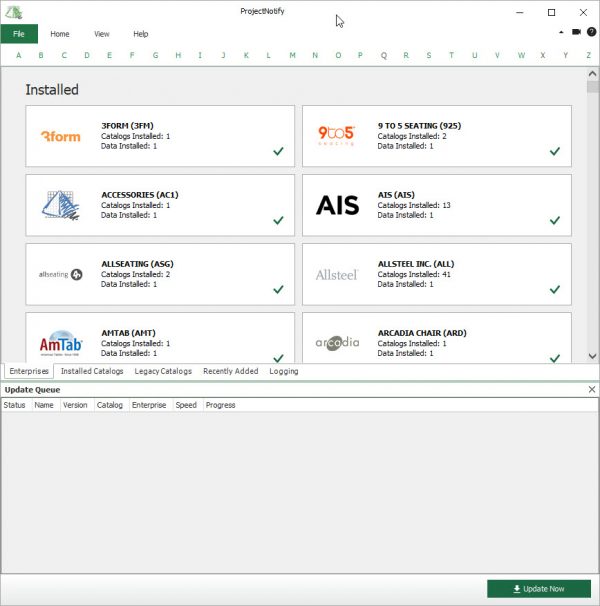 ProjectNotify (Version 5)
If you are running Version 4 Software (IGNORE THIS UPDATE)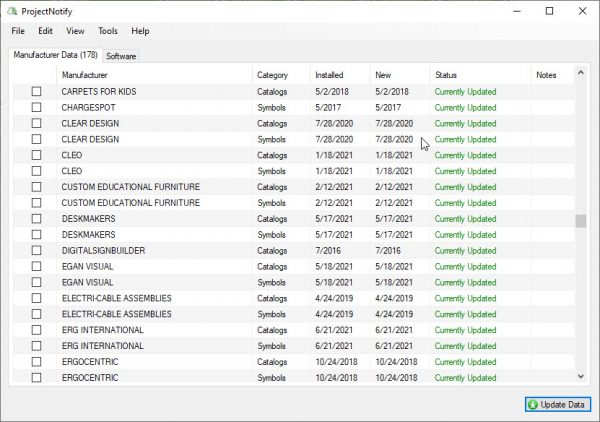 ProjectNotify (Version 4)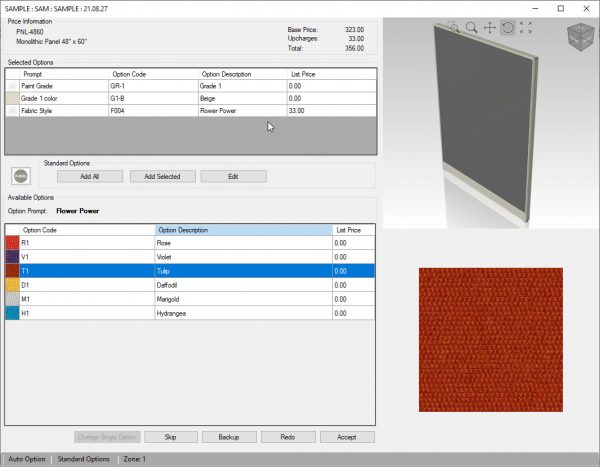 Catalog Reader (Version 5)
Seen in ProjectSpec5,  ProjectSymbols for CET, and ProjectSymbols for AutoCAD,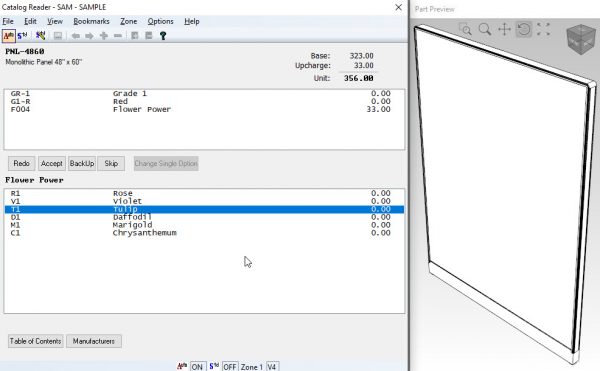 Catalog Reader (Version 4)
Seen in ProjectSpec, ProjectSymbols for CET, ProjectSymbols for AutoCAD, and ProjectWorkspace
FAQs
How does the install work?
Erin Corrill
2021-09-07T17:18:57+00:00
 Once you agree to run the install, a snapshot of the Manufacturers you have installed will be taken.
Your old catalogs database will be removed from your computer.

This only affects your catalogs, not your Symbols.  Those will remain the same.  This will help to speed up the updating process.

Using the snapshot, the program will automatically re-download and install catalogs in the NEW format.
Depending on your internet speed, and the number of catalogs you have installed, the process could take anywhere from 30 minutes to 5 hours.  During this time, you will NOT be able to access ANY software that requires a connection to the ProjectMatrix Catalogs or Symbols.  This includes:

ProjectNotify
ProjectSpec
ProjectSymbols for AutoCAD
ProjectSymbols for CET Designer